Sliding Patio doors are the solution to the problems of older patio doors that no longer suit your needs. Our patio doors are efficient, low-maintenance, and resistant to air, wind, and rain. Enjoy the full view of the beautiful outdoors while keeping warm and dry. With Window Town Sliding Patio Doors, you not only get a door with a view, but beauty that stands up to the test of time. Durable materials provide superior strength and exceptional thermal performance, adding value to your home. For an optimal view and a great outside look, consider adding tandem picture windows to the sides or even a round top above the door.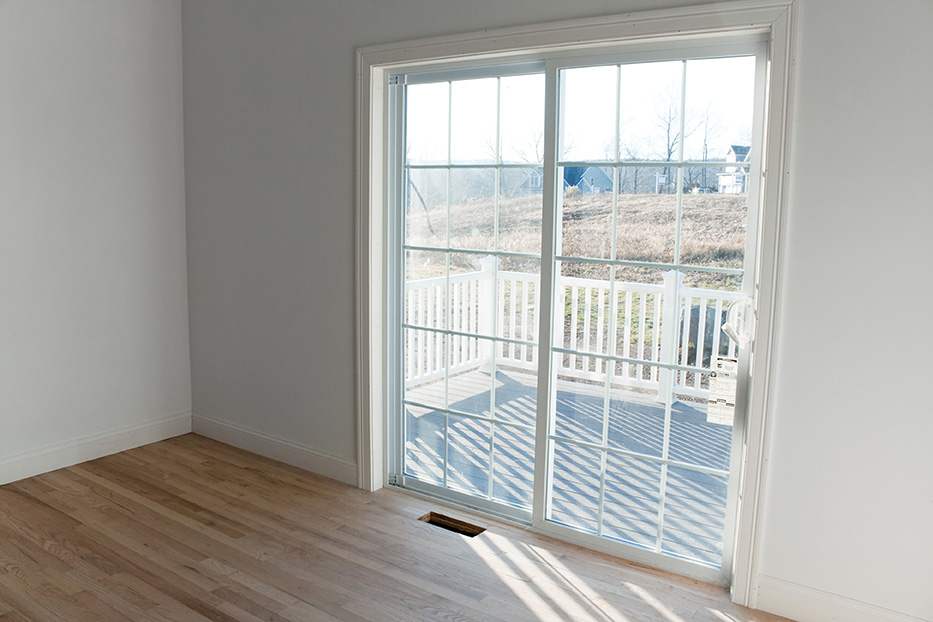 Features & Benefits
Heavy-duty virgin vinyl frame
Built for either right or left slide
Sliding panel travels on a hardened stainless steel track cover for smooth and long lasting operation
Tandem steel trolleys with 4 oversized ball bearing rollers for easy operation
Steel-reinforced panels for durability
Glass is bonded to the frame for a stronger seal
Exclusive weather-barrier sill for protection from wind and water
Heavy duty screen standard
Available in two and three panels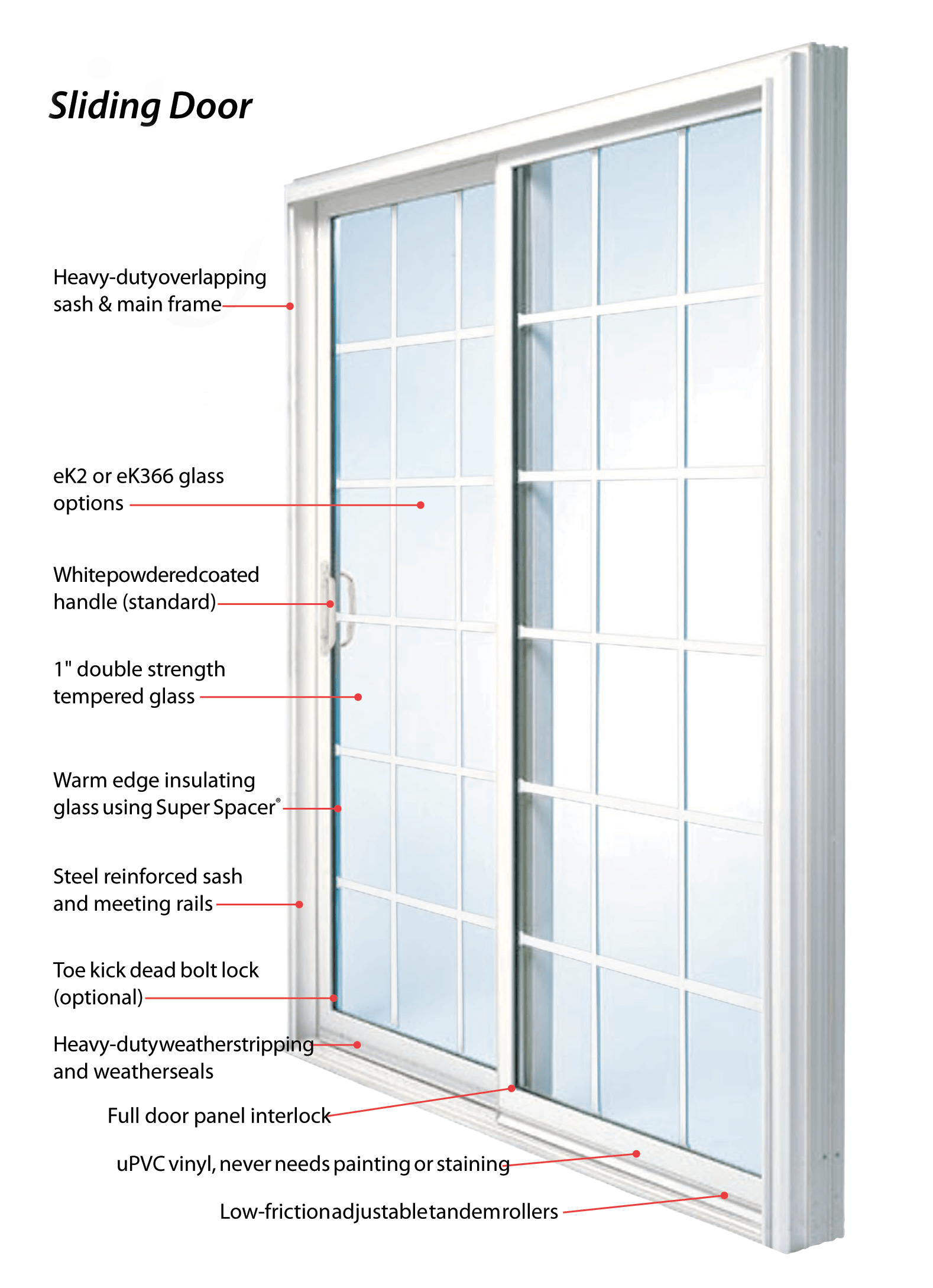 Interior Colors
Standard interior window colors are white and almond. Optional wood grain finishes are light oak, dark oak, and cherry.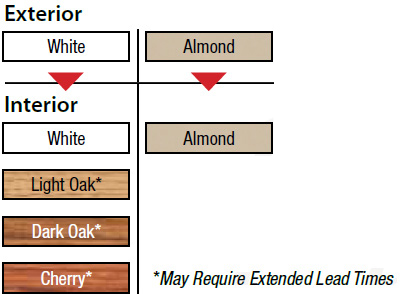 Custom Exterior Color Options
Exterior Custom Colors
Standard exterior colors are white, almond, clay and cocoa brown. Optional color choices include sixteen standard colors in a semi gloss finish. In addition to the sixteen custom colors, we can custom mix a color to your specifications. All you need to do is send us a sample of the color you would like. In all cases the finish is extremely UV resistant, AAMA certified and comes with a twenty year warranty.

Mix and Match
Wood grain is available with all standard and custom colors which may require extended lead times. Colors are only representative of the actual vinyl colors and painted colors. For a more exact match refer to actual vinyl and color chip samples.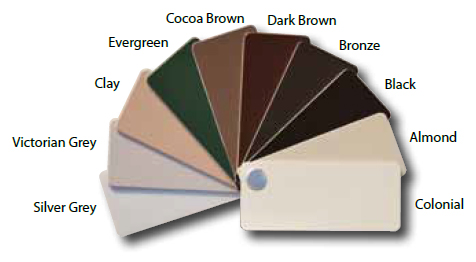 Window Town Patio Doors come with your choice of double or triple pane depending on the series of window you choose. Low-E glass options and gas fill will directly affect the efficiency of your new patio door. We offer a variety of options to fit your region of the country and your budget. Our Gold, Diamond, and Platinum glass packages are options that you will want to discuss with your estimating representative.
Choosing the Right Grid
The dust-free grids are placed in the air space between the window panes. They are offered in seven different colors and three styles; brass pencil, sculptured and flat.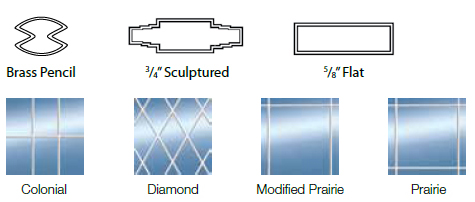 Your door will come with some of the finest powder coated or metallic hardware finishes in the industry. Doors in our standard vinyl color come with our standard hardware colors. Dark oak and cherry come standard with cocoa brown inside and white on the outside. Light oak comes with beige inside and white outside. Custom painted doors come standard with bright brass.
Standard Colors
1. Cream White
2. Beige
3. Blue White
4. Clay
5. Cocoa Brown
Optional Colors
6. Brushed Chrome
7. Bright Brass
8. Bright Chrome
9. Black Nickel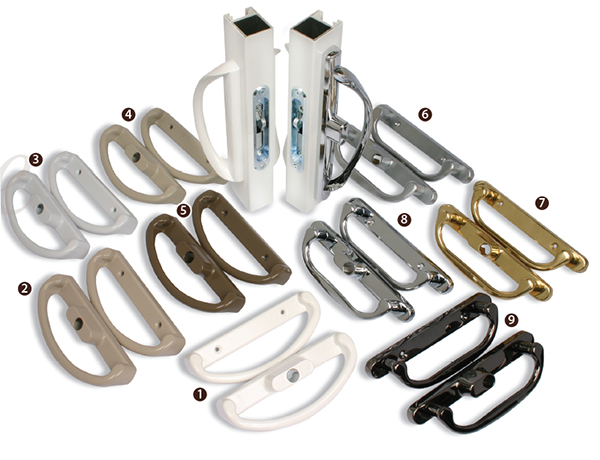 Schedule your Free In-Home Estimate and Contract Today!
Serving Broome, Delaware, Tioga, and Susquehanna (PA)